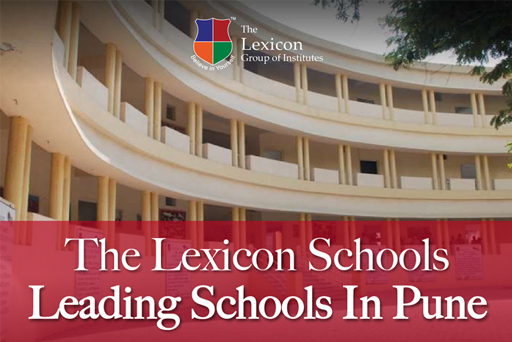 Every child is unique and so are their learning needs. Lexicon brings about the best in them.
Lexicon aims to provide top quality holistic education in Pune and hence enlists its name high up at the apex among the Best CBSE Schools in Pune. We believe in 'Learning by Doing' and avoid rote learning. Keeping child's curiosity and interest alive, we make sure that we provide impeccable learning platforms for children to develop. With our modern infrastructure and encouragement to develop child's intrinsic abilities, to make him/her stand out distinctively in this competitive world, we are committed to secure your child's future.
We at Lexicon, focus our dedication towards evoking a passion for learning and developing the requisite set of attitudes, skills and knowledge that enable our learnersto maximize their potential towards becoming positive, responsible and well informed participants in our democratic and rapidly progressing global community. It is with this ambition that we work towards developing an environment which fosters social accountability, national pride and a curiosity which triggers the mood for self-learning through self-initiation. On this ethos rest the pillars of our foundation of the best CBSE School in Pune- The Lexicon group of schools. We aspire to walk our learners down the road which leads them to develop, a thirst for knowledge such that its discovery leads to the enrichment of life for them as individuals and the community at large."
Keeping in mind the varied interests in students, we have designed our teaching methods in a child friendly way so as to ensure that children enjoy their school going experience as they walk into the Top rated CBSE School in Pune.
The school management has done extensive research resulting in astonishing findings in the field of teaching – learning and for shaping the neurological structure of brain starting right from class I onwards using unique methodologies like Jolly Phonics, Reading-Spellings- Quick Math, Use of Graphic Organizers and Audio Visual Aids to list a few. All these bring a wide range of experience for the children and garners us into the category of Best & most Innovative Curriculum by BBC Knowledge Group.
Multiple Intelligence mapping and Blooms Taxonomy has been incorporated at all stages of the students' curriculum. We emphasize on independent thinking and hence the use of Thinker Keys.
Public speaking, one of the most essential requirements of today, is given prime importance in our school. They are groomed to speak confidently and fearlessly. As co-curricular activities are equally important, greater emphasis is given on physical activities as well as art and craft, music, role-play and cooking.Students learn and come in terms with the technical and practical realities of life as they work on projects included in the Research and Development.
With the growing needs and demands of the world, we cater to the co-curricular activities as students enjoy and learn from the newly introduced hobby clubs as an afterschool or weekend activity.
Math lab, Science lab, Smart classes make learning a joyful experience for the young learners and thereby an ideal balance of creativity and flexibility is introduced within a structure. Study tours, Intra-School and Inter-School competitions, National level Competitions and Olympiads make our students more competitive and ambitious adding a purpose of achievement. Moreover compassionate teaching along with trending teaching methods make our school unique providing wholesome learning experience.
With faith in our motto-'Believe in yourself' we move forward in breaking barriers and achieving nothing less to make Lexicon THE BEST School of all.