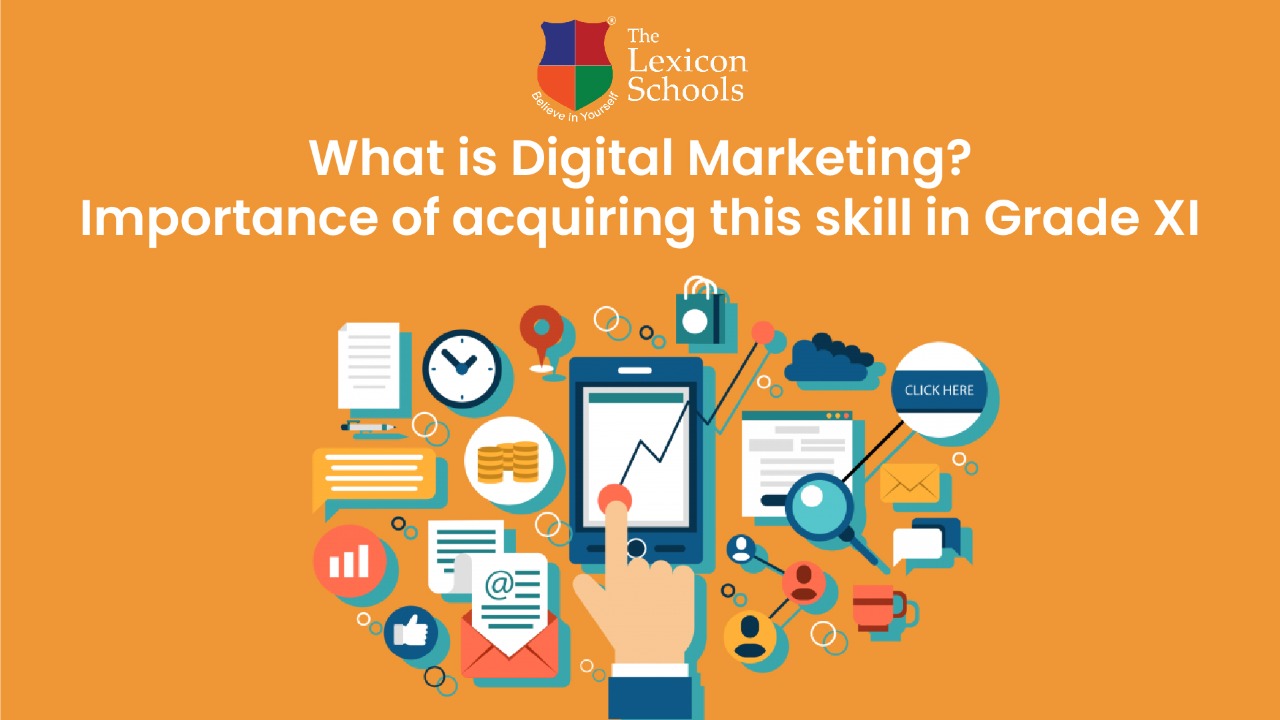 The pandemic has given us a small glimpse into the future of an entirely digital economy, with
more businesses switching to the online mode, the field of digital marketing will grow at an
exponential rate. Therefore, being well-versed with the concepts and fundamentals of digital
marketing and how it works at an early age has become essential.
The internet has changed our behavior drastically, affecting our personal lives like our
professional ones. While it affords us transparency and access to a whole host of information, it
also draws scrutiny. If used appropriately, Social media and digital marketing concepts can be a
gateway to numerous opportunities, especially for the younger generation of students.

Digital Marketing is the promotion of products, services and is now also being used as a tool for
personal branding by various professionals. By using the internet and digital technologies,
professionals now have the chance to connect with prospective hiring managers or promote
their professional value proposition and reach the right audience. It is a common practice to
utilize various marketing channels like social media, e-mail, web advertising, multimedia
messages, etc., to drive strategies to create a niche and build awareness and this is true for
professionals as well.
Digital marketing allows marketing teams to identify a specific set of individuals who may be
looking for the solutions their company is offering or capture new audiences based on their
online footprint and, hence create advertisements with specific messages curated to suit each
type of consumer. Online marketers utilize various tools and platforms like google analytics,
Google AdWords, etc., created for activities such as data analytics, creating online marketing
campaigns from various sources with ease. These tools also help with identifying effective
strategies, gaps in the marketing plan, forecast requirements for the future, while also helping
companies make data-driven, informed decisions with regards to the brand.
Utilizing the same tools of digital marketing, students can attract the attention of and, connect
with institutes, prospective universities, and organizations while highlighting their skills,
academic growth, and extracurricular experience in a unique yet engaging way and in keeping
with the digital transformation that we are facing. A simple thing such as a website describing
your academic achievements, interests, and affiliations can give visitors a comprehensive idea
of your skills and how your belief systems are aligned, and how you will be an asset to them.
Digital marketing having over-taken other traditional forms of marketing has led to a rise in the
demand for skilled digital marketing professionals. Some advantages of stepping into the field of
digital marketing are:
A vast array of career options to select from
Digital marketing is a vast field, that comprises individuals in various roles and functions offering
career options like SEO specialist, Content specialist, social media specialist, Digital Marketing Analyst, Web developer to name a few. With a maximum number of businesses making the shift
to the digital world, opportunities for digital marketing professionals are ample.
Increasing demand and short supply
Even with the two consecutive pandemics, the online business community has barely felt the
change. On the contrary online businesses have seen steady growth across both years which in
turn has led to the demand for skilled digital marketers in place. And according to a report by
Goldman Sachs, the career scope for digital marketing in India is expected to be worth $160
billion by 2025, ensuring that the demand for digital marketers continues to grow in the coming
years.
Open to individuals with specific domain knowledge
The primary advantage of stepping into a role in the digital marketing field is that there are no
prerequisites other than having expertise in digital marketing concepts and skills. Individuals
being subject matter experts and having digital marketing skills are regarded as having an
added advantage as compared to those not having other expertise.
Personal Growth and Development
The field is relatively new and growing. A steady introduction of new technologies learning will
be a continuous exercise. The advances and upgrades in technology with the dynamic nature of
the industry will ensure your personal growth and development are in tune with your
professional journey.
An important question that needs answering to pursue a career in Digital Marketing is how do
you learn the concepts and when is the right time to start? You can start learning the
fundamentals of Digital Marketing as early as XI grade. The concepts are quite easy to
understand and make for a great base if you decide to pursue the course further with an MBA.

The Lexicon Schools, in a first-of-its-kind initiative, offers five additional certifications to students
in the XI & XII grade inclusive of the Digital Marketing Certification program. This program aims
to introduce to the students, concepts of digital marketing, its applications in the real world,
tools, and technologies utilized in the field. This early start helps students understand the
concepts thoroughly. Adding this competency to their skillset can be a great advantage when
pursuing further studies, applying for internships, employment opportunities, or even with their
entrepreneurial ventures in the future. With these advantages in mind, the knowledge of digital
marketing is advantageous and essential in the long run.