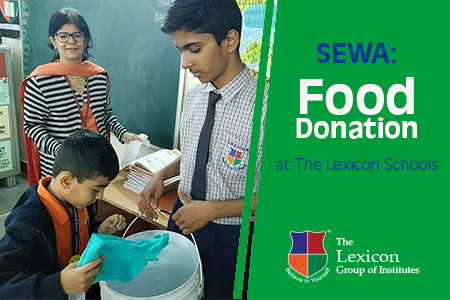 The Lexicon Schools have been leading in all fields and have continued to do so by taking a step towards donating food to the less privileged.
One of the primary reasons we talk about food scarcity and world hunger is that we recognize there are countries in the world, even today, where people for whatever reasons, cannot provide for themselves. Poverty and scarcity of food has been a worrying issue in our country. It causes malnourishment, health problems, and goes up to the extent of death too. Due to this critical situation of malnourished children as well as adults, there is a huge scope of these people not being able to contribute as a human asset.
To solve this problem of food scarcity, The Lexicon Schools have taken this initiative to provide food to the needy from the store of the school community. In order to support such a noble cause, the young and enthusiastic students bring an onion, a potato and a fistful of rice as a part of a small donation from their side. Does this not enliven the saying 'Many small helping hands, but greater is the cause'?
Such a great sense of social responsibility is inculcated in students not only by seeing, but by doing. It's seen more as an act of sharing of resource than donating.
The school community believes that 'Change begins with us' and with its part of sharing, we have come together to make the impossible thing possible. How relevant are our actions to what we preach! Such a small action brings smile on hungry faces; it nurtures hope and faith in humanity.
Our humble abode of Lexicon, our home of learning has gone way beyond books; we are working towards ensuring fraternity and fulfillment.
We are the proud students to a community that has taught us values beyond theory, and has shown us how a small step can bring a great transformation in the lives of people around us.
-Written by Aarzoo Mane, a student of Class 8 at The Lexicon Schools