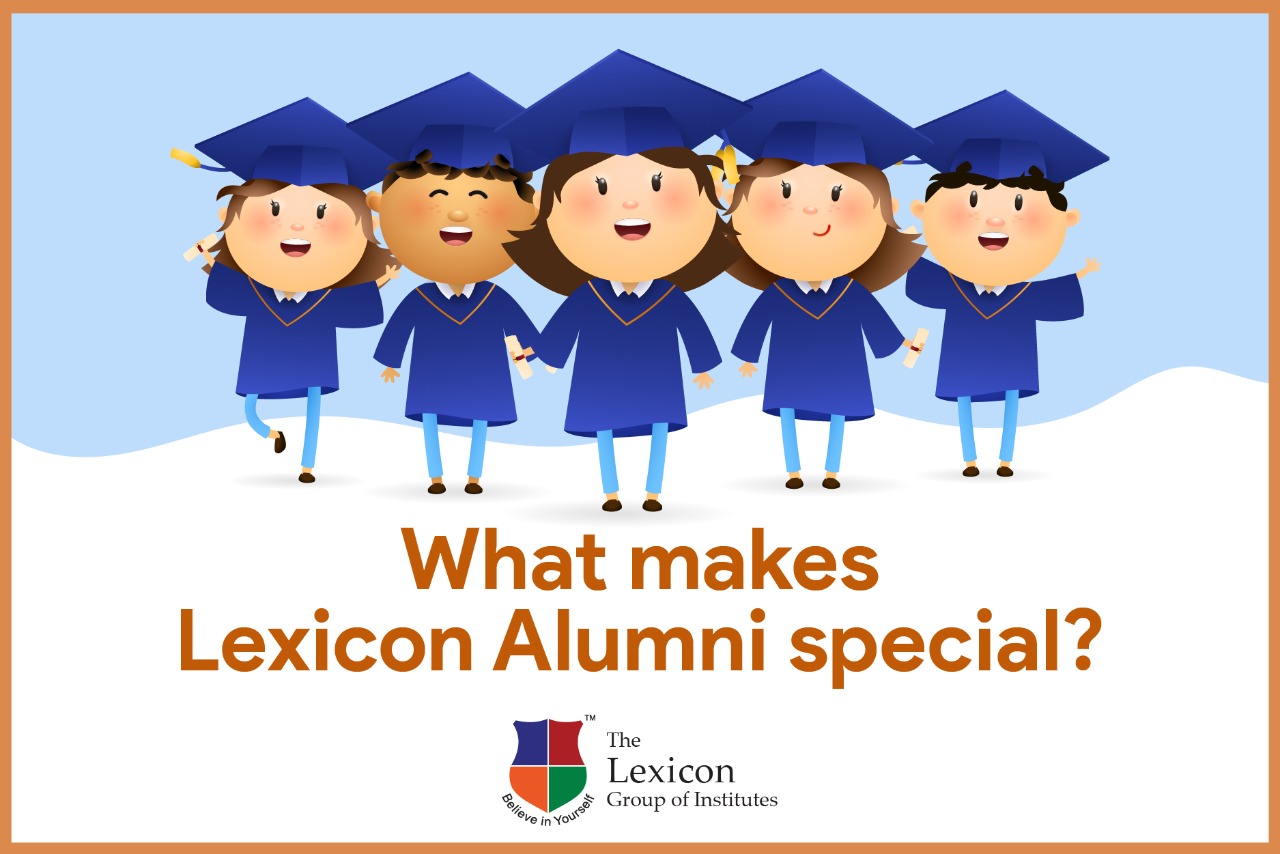 ALUM! ALUM! ALUM! What is the meaning of alum? An 'alum' or 'alumnus' is a person who was a former member of a school, college or a university.
Alumni are vital as the ambassadors of the school. They often share their experiences with the current students. They guide the students in academics, sports and other activities. Students also talk openly to alumni since they feel that the alumni can understand problems or thoughts as their peers and seniors. If the current students face any problems, the alumni can guide them to overcome it based on their own experiences. Above all, whenever they visit, the alumni bring joy, energy and enthusiasm among other students.
The Lexicon Schools have been ranked as the best schools in Pune in terms of academics, sports and co-curricular activities. Our Schools are known for our motto of 'Believe in Yourself', because it is only in this belief in ourselves, that we excel. Our schools teach us so much more than what is just in the textbooks; we learn values in every aspect of the surrounding, and additionally, we even learn to add value to our communities. Throughout the year, we are given multiple and diverse opportunities to shine and develop good habits, good skills and enhance our personalities through stage confidence and more refined public speaking skills.
The alumni of The Lexicon Schools are a perfect example of how students should be. They have successfully imbibed what their school has taught them, and when they visit the school, they interact with current students and share their new experiences of life. They visit the schools on all special occasions, such as Independence Day, Republic Day, Teacher's Day and Annual Day. Their visit brings happiness on the faces of the students as well as the teachers, as they bring back so many wonderful memories clubbed with the stories of their new lives after school. The current students take this opportunity to discuss their school activities and events, and also ask for tips. The alumni too, seek the guidance of their former teachers and the Principal, as their bond is one of several years of trust, faith and love.
The inspiring batch of 2018-19 was the first Class X graduating batch of The Lexicon School, Hadapsar. They made the school proud by achieving excellent results in their board examinations. It was because of the expert guidance, support and relentless efforts of the management and staff that helped our students achieve 100% result in the CBSE board exams. The Class X toppers were: Lekhyashree Marri, Saloni Mahadik, Himanshu Gaikwad, Kashmira Nigade, Janhavi Khanvilkar and Amey Joshi, all securing above 90%. Their hard work, perseverance and determination to succeed were the secrets of their success.
This batch also had marvellous sportsmen like Arya Khadgi, Kushal Barikar, Yash Tamhane, Himanshu Gaikwad, Ritesh Gaikar, Kushal Chauhan who represented Maharashtra in the Rocball Nationals, both at Delhi and Hyderabad. Proving their prowess on the field, they represented the school in the ZP Athletics and myriad skating events.
So what were the characteristics that these alumni possessed that made them special? Most importantly, each one of them had a goal. Every single one of these successful alumni had decided what he/ she had to achieve in the future. They knew their strengths and weaknesses and were willing to get better, every single day. Some were good at sports while others were good at academics. Everyone had prepared a timetable and followed it with dedication throughout the year. They had a balance between academics and physical fitness, and they also managed time for learning new things while focusing on the things they already knew. They set their long term goals and worked hard towards accomplishing them. They were a perfect example of 'all-rounders'. They were confident, proactive and knew what they had to do after completing their Class X. Combined study and working together as a team played a pivotal role in their success.
Each one of these successful alumni has started the journey to reach the desired destinations. Many of them are planning to join the Indian Institute of Technology (IIT), while others have decided to serve the country through the Armed Forces. Each one of them is now working even harder to achieve good results in the Class XII exams, and simultaneously crack various competitive exams like the JEE-Mains, JEE-Advanced, NEET.
What makes Lexicon Alumni so special is how much Lexicon invests in its students, and how there is always support and faith in our abilities. Lexicon ensures that students grow not only in academics and sports but also socially, emotionally and spiritually by learning life skills to help them face the real challenges of life. The alumni are an integral part of our schools; they are the face of the school and will be remembered for a very long time to come.
The most important facet that each alum of Lexicon is the armed with, is the school motto to 'Believe in yourself'. This self-belief is the attitude that makes a Lexicon Alumni equipped to always excel.
-Written by Himanshu Pathade & Akshat Joshi, students of Class IX A at The Lexicon School